Family, friends, and staff attended a gathering at the Mt. Shasta Elementary School Library on Friday, July 26, at 10:30 a.m. to rename the library after beloved librarian, Laurie Caldwell. The Mt. Shasta Union School District board voted to change the name at their June board meeting to honor Mrs. Caldwell after losing her battle with cancer. Laurie started as a teacher's aide in 2006 and was librarian for nine years from 2010-2018. The position of librarian was a dream come true for her. She loved working with the staff at MSE and adored the students. Her favorite part of each day was to read aloud to each classroom. She told students to "read something you love" and hoped to spark a lifetime love of reading in each child.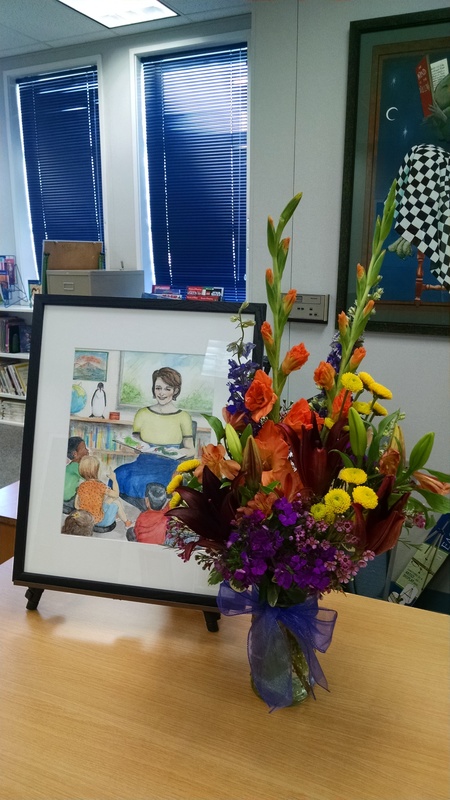 (Above) Teachers' Aide Gail Domanski donated this piece she painted to hang in the library. Beth Neumeyer donated the flowers.
Laurie's creativity, kindness, and caring were evident in everything she did and to everyone she met. She started a Noontime Reading Program by asking community volunteers to listen to children read aloud. Several volunteers brought in therapy dogs to listen to the kids. One of her mottos was "Open a Book, Find a Treasure!" She introduced "Author of the Week" and highlighted a different author each week. Laurie applied for a James Patterson Grant and was awarded $3,000 for the library. She wrote a very heartfelt application about being an "Accidental Librarian" and her love of introducing reading to each and every child.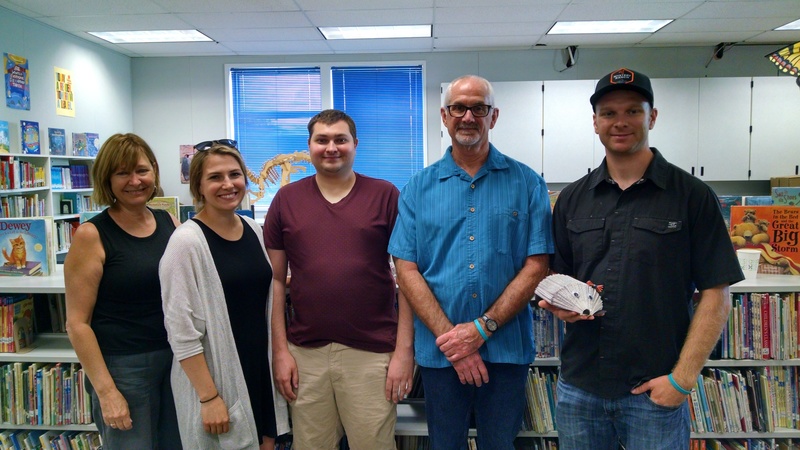 (Above) Members of Laurie's family joined us for the celebration. They are (L to R): Laurie's sister Sue Gleffe, Sue's children Katie and Stephen, Laurie's husband Eldon Caldwell, and her son Evan Caldwell.
Laurie's kindness and compassion for others was her life. She taught Children's Church on Sunday mornings, mentored young people, volunteered at the Coffee Connection, and loved to hike and swim in mountain lakes.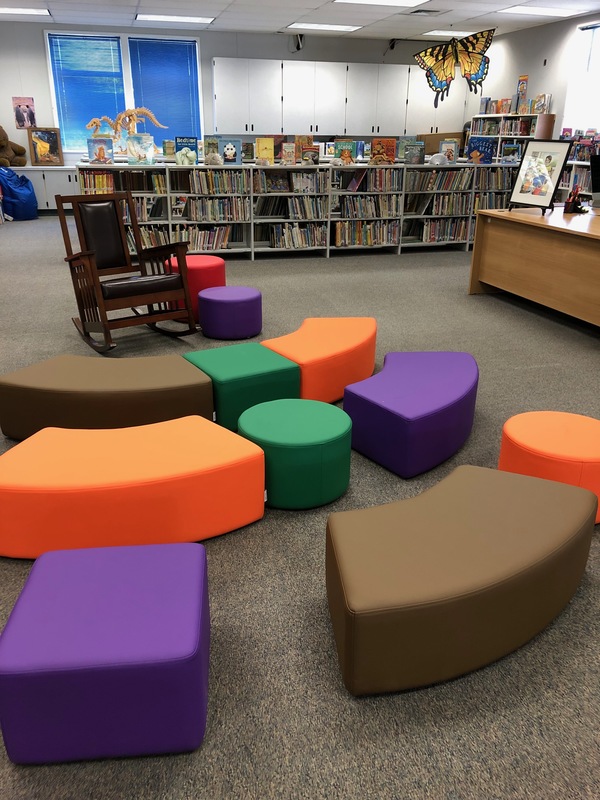 (Above) We used part of the money people donated to the library in Laurie's memory to purchase these colorful seats. They are easily moved and can be arranged for any number of purposes. We will use the remaining money from donations to purchase books students will be able to check out. Our students are benefiting greatly from the community's generosity.